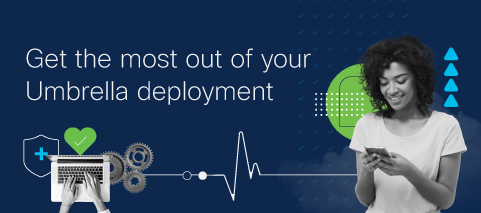 Cisco Umbrella Health Check Webinar
Tuesday, October 24th, 2023
1 p.m. GMT | 3 p.m. CET
Umbrella is a powerful tool – are you getting the most out of it?
With Umbrella, you have powerful data at your fingertips that tells you exactly what is happening in your network. You can see trends in your environment, the types and volume of threats blocked, and the most active users in your network. Join our expert, Vitor Castanheiro, on October 24th, to learn tips for maximizing your deployment. He'll cover:
The key to a healthy deployment
How to troubleshoot issues as they arise
Where to find information on product updates
All registrants will receive a link to the on-demand recording after the webinar so be sure to register even if you can't make it.
We hope to see you there!
We look forward to having you join us!